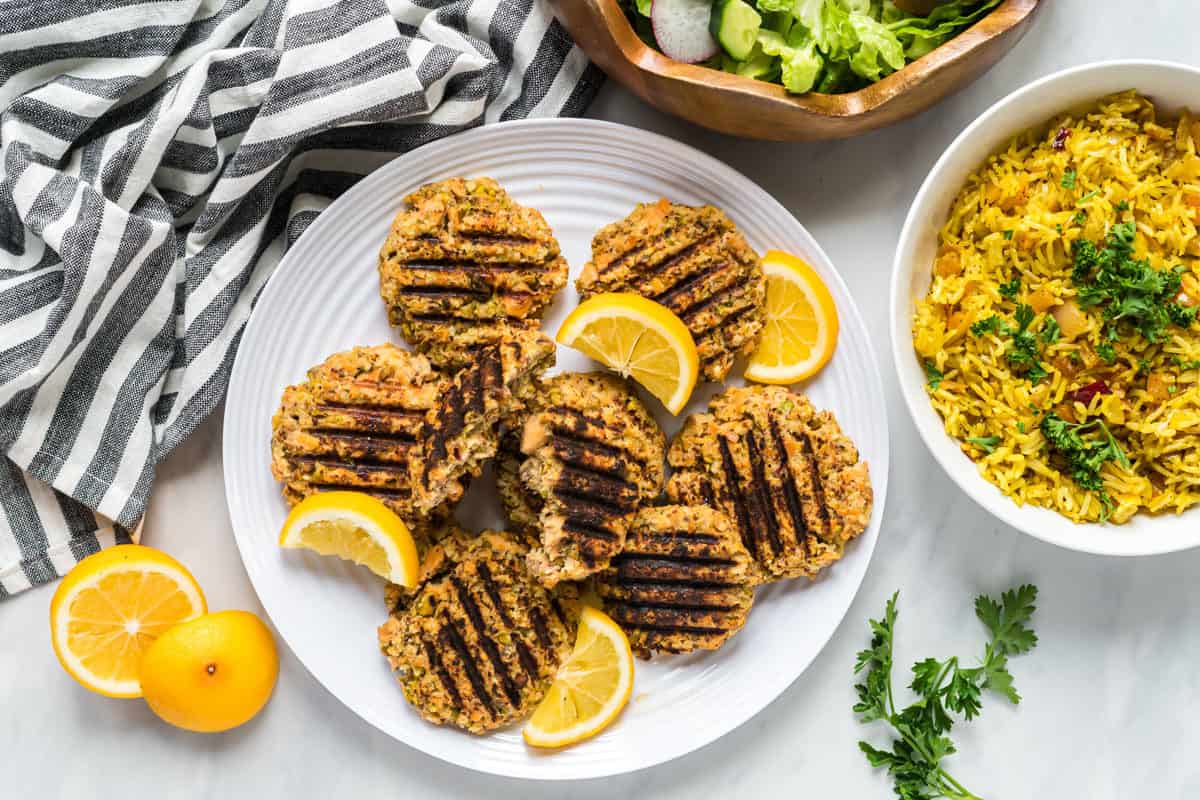 Pistachios and honey mustard flavour these stellar salmon cakes. The best part? They come together in 15 minutes flat!
Once upon a time I worked as a server in a fine dining restaurant that specialized in seafood. I was a tad worried about how I would "sell" the dishes as I was definitely NOT a seafood fan at the time.
That was when I discovered that fish, when prepared by a professionally trained chef, is actually delicious!
One recipe on the menu was a pistachio encrusted salmon. Not only could I tolerate it, I actually LOVED this dish!
So I decided to re-create the magic… but in a super easy and more economical dish!
The chef who created the original pistachio salmon would likely roll his eyes at me using CANNED salmon for this recipe, lol Fine dining is not known for its use of economical foods.
But canned fish is just as nutritious as fresh fish! It's also:
Super convenient
Super quick
…and you don't have to worry about overcooking it (that's my biggest fear about cooking fresh fish!)
Why These Pistachio Salmon Cakes are a Smart Choice
Have you noticed how quick these come together? In 15 minutes you will have the tastiest, most flavourful patty ever! I've paired it with an apricot rice that takes advantage of leftover rice but you could also throw these on a bun and call them salmon burger. Save some extra whole grain mustard, if you do!
Pair these with some sauteed green beans or a side salad and you've got a complete meal! I would love to suggest this Savoury Turmeric Salad Dressing.
But let's also talk about how heart healthy these are! Salmon contains omega 3 fatty acids and the pistachios contain mono-unsaturated fats, both of which have been correlated with improved cardiovascular measures!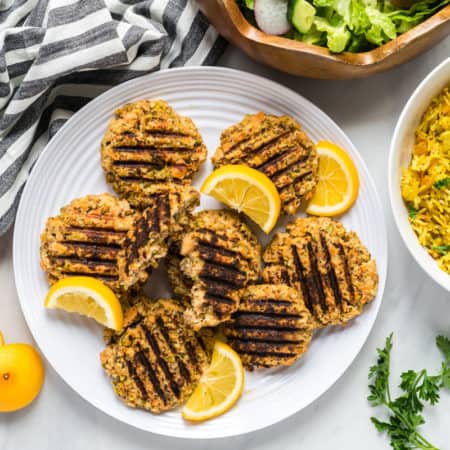 Pistachio Salmon Cakes with Apricot Rice
Honey mustard infused salmon and pistachio cakes paired with a sweet and spicy rice dish!
Ingredients
For the Salmon Cakes
1

egg

1

tbsp

honey,

melted

1

tbsp

whole grain mustard

1

tbsp

lemon juice

½

tsp

salt

¼

tsp

fresh ground black pepper

1

can salmon

½

cup

pistachios

¼

cup

panko breadcrumbs
For the Apricot Rice
1

tbsp

canola or olive oil

1

red onion

1

tbsp

sugar

½

tsp

sumac

¼

tsp

salt

¼

tsp

turmeric

¼

cup

diced dried apricots

2

cups

cooked brown rice

2

tbsp

water (if needed)
Instructions
For Salmon Cakes
In a medium sized bowl, whisk together the egg, honey, mustard, lemon juice, salt, and pepper.

Break up the salmon into flakes with a fork and stir into the bowl.

Place the pistachios in a mini food processor and chop until they become small pieces/crumbs.

Stir in the pistachios and panko crumbs then allow the mixture to rest for 5 minutes.

I like to cook these in my panini/indoor grill but you can also cook these on a BBQ or fry them in a pan on the stove. If your grill is non-stick you won't need to add any additional oil.

For frying in a pan, brush some oil onto the patties before frying over medium heat. About 2-3 minutes each side. If cooking in a panini press/grill then cook for about 5 minutes total.
For Apricot Rice
Heat the oil in a frying pan over medium low heat.

Add the onion, sugar, salt, sumac, and turmeric. Cook until the onions are soft.

Add the rice and apricots and stir until heated through. If the rice is pretty dry, add the 2 tbsp of water.
Nutrition
Calories: 320kcal | Carbohydrates: 46g | Protein: 8g | Fat: 13g | Saturated Fat: 2g | Trans Fat: 1g | Cholesterol: 41mg | Sodium: 526mg | Potassium: 409mg | Fiber: 5g | Sugar: 14g | Vitamin A: 420IU | Vitamin C: 5mg | Calcium: 54mg | Iron: 2mg
Servings: 4 patties
Calories: 320kcal
Author: Jessica Penner, RD
Trying to eat more fish?
Try these other fish recipes!
Creamy Tuna Noodle Casserole
Easy 5 Ingredient Salsa Tuna Casserole